Congratulations to our WIN FIVE winner!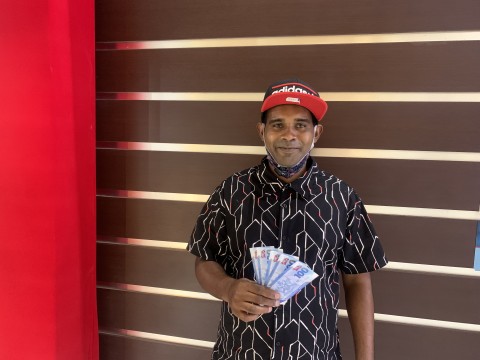 Miguel Ramnanan of Sangre won our WIN FIVE 2020. He is pictured here with his winnings. The WIN FIVE was a random giveaway from goodtalkTnT to anyone who answered a question about goodtalkTnT. Extra entries were awarded for each social media follow and like.
The Prize was $500TT and was open to any legal resident of Trinidad and Tobago except for employees and family of goodtalkTnT.
Miguel was the third random draw as the first two randomly drawn winners never responded. The listen for everyone is this:
For any contest you enter, pay attention to when and how winners will be announced? What a shame to win a prize and not claim it in time.
Sign up to be alerted to more contests
Make sure to sign up to our newsletter and to follow us on social media as we'll be posting not just deals but local contests that allow you to win something. Who doesn't want to win a prize? But to win you have to enter, and goodtalkTnT.com is the place to keep coming back to check for what you can win, and where you can save money.
EntEvery week you'll have an opportunity to win a prize from one of our sponsors. All you have to do is follow us on social media and share something from the site.