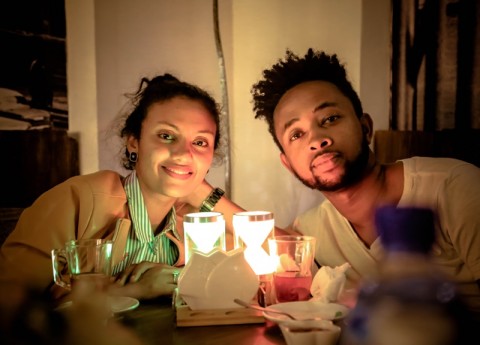 Valentine's day is coming up and Covid is no excuse for letting it pass by. Guys that would be trouble. You can still do the normal Hallmark card, flowers, and or dinner reservation, but the dinner reservation may not be the same with Covid restrictions especially since you can't even have a glass of wine.
So here are three things to keep in mind when considering what to do for that special woman.
The message you want to send
The first thing to keep in mind is to remember the message you're sending this Valentine's day.
It's not about checking off a list with a card, or a flower. It's what these things represent.
Your woman wants to know that you think, … still think … she's beautiful, sexy and special and that she's the only one for you. So when you think of what you're getting for her, let your choice be guided by how it will make her feel, and remember ...
The second thing to keep in mind is that giving your time is the most important aspect of anything you do for your woman, whether it be a birthday, anniversary, or Valentine's.

Did you take time to think about the gift?




Did you take the time to research it?




Did you take time to prepare?




Does your g

ift itself involve spending time with her?



The more time you took, the more it shows you care, ergo the more she will appreciate it.
The third thing to keep in mind is that together-time, the time you spend with her is most important.
After all, you're in a relationship with this woman and you're trying to communicate that you chose her from among the scores of women you could have been with. Carving out time to be with your Valentine communicates that message more than anything else.
Some together-time ideas:
Some ideas that fit this include:
Cook dinner for her, where she sits with a nice glass of wine and watches you cook. And while you show off your chef skills, ask her questions about what's going on for her.




Go to a spa and spend some hours being pampered together. Yes, you could just get her the visit, but doing it together makes her feel you want to enjoy the time together.




Take a long drive somewhere. Pick a destination somewhere in Trinidad you've never been to and take a drive there. The more you research the stops and plan interesting sites and experiences along the way, the more you'll make her feel special.



As a general tip. Be curious guys, genuinely curious about your beautiful, sexy woman. Women complain about how men just want to talk about themselves. If you do go to a restaurant this year, make sure the focus is on her.
Ask questions and listen.
A
sk her about her day, her ambitions, and how she feels about things, and if you want your relationship to grow, be curious every day of your relationship.